A DAY IN THE LIFE OF: DAVID FIELD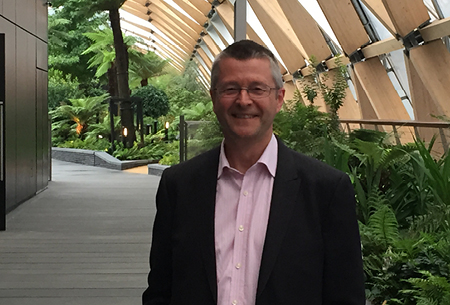 David Field
Founder and Managing Director, The Field Effect
---
September 19, 2018
In this feature interview, The Purple profiles David Field, Founder and Managing Director, The Field Effect
Tell us about your current role. What does a typical day look like?
Mondays start with a long-ish commute up from Sussex and a "start-theweek" coffee at London Bridge with my train buddies—our current fave is Monmouth in Borough Market. On other days I now have the best commute of my entire career: a nineminute walk from our pied-à-terre to the office in Canary Wharf. Four of those minutes are riding the elevator. Sometimes that short commute might allow me 10 minutes before work to learn a bit more Italian—a country we keep going back to. Most days involve meeting clients to shape how we might help with upcoming challenges such as collateral and margining, LIBOR replacement or Brexit preparation, or perhaps checking progress on an in-flight project such as SFTR solution design, legal agreement management or securities finance transformation. Alternatively, I might be brainstorming with my team on how we can help clients with challenges coming further along the horizon, or hiring the right project experts to resource engagements we have just won. I prefer the informal approach, so a lot of my meetings are conducted over a coffee or a glass of wine. I've discovered you can be highly productive without having to be too formal all the time.
What is the biggest challenge you face in your position?
When you look at the business pipeline for a consultancy, you're always balancing demand from clients with availability of the right resources. I'd say the biggest challenge is managing demand to coincide with team members coming free from their assignments. There is also the frustration of having to leave a client project halfway through because budgets have been cut from on high, irrespective of project progress. Alongside the day-to-day issues in a small firm, there's always the challenge of finding time to look up and plan our future growth. 
What is your proudest moment on the job??
There are great moments in every part of the project lifecycle. To begin with, there's nothing to beat winning a mandate from a new client. Consultancy is quite intangible compared with other services, so when a client awards you a contract, it demonstrates real trust—in our expertise, our approach and our integrity. It is a proud moment. It's also great to see a team in action—people with different skills, knowledge and levels of experience, our own and our clients', pulling out the stops to deliver to a deadline. Even when people leave the firm (it happens occasionally!), it makes me proud to hear them say they have learned a lot, appreciated our approach and also had fun along the way. The best moments, though, are when clients tell us they couldn't have achieved their results without our help. A client told me last week he wants to switch consultancy supplier to TFE because "you guys are the best in the market." Doesn't get much better than that. I'm immensely proud to have built the recognition we enjoy in the market. 
What do you do in your spare time?
There's not a lot of spare time when you run your own business, especially at the beginning. I've spent many a weekend paying the VAT, authorizing invoices or updating the cashflow. But now that we have more operational support in place (thanks Angie!) I try to be quite disciplined about taking time out. My wife and I are both musicians and regularly perform with both a London and a Sussex choir— music ranging from some of the most uplifting works known to man (Bach's "Mass in B Minor" comes to mind) to ultra-modern (even world premiere) choral works with sublime words and harmony. At the weekend I become "lumberjack man"—complete with check shirt and chainsaw—bringing my own patch of Sussex woodland back into a managed coppice, becoming CO2 neutral in the process. Our kids are grown up now, and one of my proudest moments ever was earlier this summer when our daughter got married (in our woodland), and seeing our son in his HAC army uniform (though his day job is scrum master on a bank technology project). They're both in London, so we often meet up for dinner; it's great seeing their lives unfold. 
What is the best advice you have ever received?
Where to start! I have sat on a number of companies' boards, and had some great advice from non-exec advisers. I remember consulting one about staff productivity, and he encouraged me to pay "much more attention to what people do than what they say." Another recommended that I should "be ruthless in decision, humane in execution." Some of the best advice I have taken on board is from the famous "7 Habits" book, which in my honest opinion is worth re-reading every 10 years: "start with the end in mind," prioritize "important not urgent" activities and "keep learning." One of the hardest pieces of advice for me personally, being very goal-driven, is to loosen up, hence my preference for networking socially.