Being a Woman in Securities Finance
Rebecca Branca reflects on the positives of being a graduate, a new joiner and a woman in the securities finance market as she is first introduced to the Women in Securities Finance organization.
Rebecca Branca, Data & Analytics Product Specialist
The Women In Securities Finance (WISF) organization marked its 5th anniversary in 2022 by ringing the bell at the New York, Toronto and London Stock Exchanges, a momentous milestone and an important signal for any woman considering a career in the securities finance industry.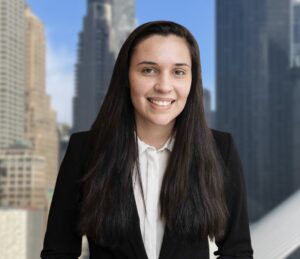 I began my own securities finance career in 2021, as part of EquiLend's Business Rotational Analyst program, directly from my undergraduate studies where I majored in Finance and Business Analytics. As I started my first rotation with the company, it was clear that EquiLend was an inclusive and diverse environment where I would feel comfortable prospering in my career as a woman. The women I encountered were strong, articulate and identifiable role models in the company and across securities finance. The positive influence of having senior women available to me and their leadership, highlighted the significance of having direct representation of female leadership.
I knew that being one of the only women in a meeting at times would be unavoidable; however, I was fortunate to have women within the company who I looked up to and could turn to for support. My first rotation was with the Data & Analytics team where I worked under a female senior manager who taught me the importance of believing in your work as well as building a strong network, especially as a woman. Within EquiLend, she has been a vital role model for me, but she has also introduced me to an equally important band of women outside the company: the WISF community.
Last June 2022, EquiLend hosted the first in-person WISF event since the beginning of the pandemic. It quickly became clear to me that WISF champions women in the securities finance industry, providing a network of support, opportunity and mentorship. At the event, the speakers were asked to consider their triumphs and adversities in the industry. Hearing their voices, I realized the necessity of believing in my abilities, speaking up, asking questions and seeking female mentors whenever possible.
I appreciated the opportunity to hear from these women as they imparted their knowledge and experience to young women like me who are just starting our careers.
With an additional six months of experience under my belt (a whopping 30% of my career!), and a permanent position with the Data and Analytics team, I attended my second WISF event for the 5th anniversary celebration, the bell ringing at the NYSE. I'm so thankful for the mentorship I have gained from the diverse community of colleagues across EquiLend and for my introduction to WISF. I'm excited for more opportunities to progress my career with EquiLend and expand my network within the securities finance industry.
About DataLend
DataLend, the market data service within EquiLend's Data & Analytics Solutions group, tracks daily market movements across more than 62,000 unique securities in the $2.5 trillion securities finance market. www.datalend.com
About EquiLend
EquiLend is a global financial technology, data and analytics firm offering Trading, Post-Trade, Data & Analytics, RegTech and Platform Solutions for the securities finance industry. EquiLend has offices in New York, New Jersey, Boston, Toronto, London, Dublin, India, Hong Kong and Tokyo and is regulated in jurisdictions around the globe. www.equilend.com