A Day in the Life of: Andrew Dyson
CEO, International Securities Lending Association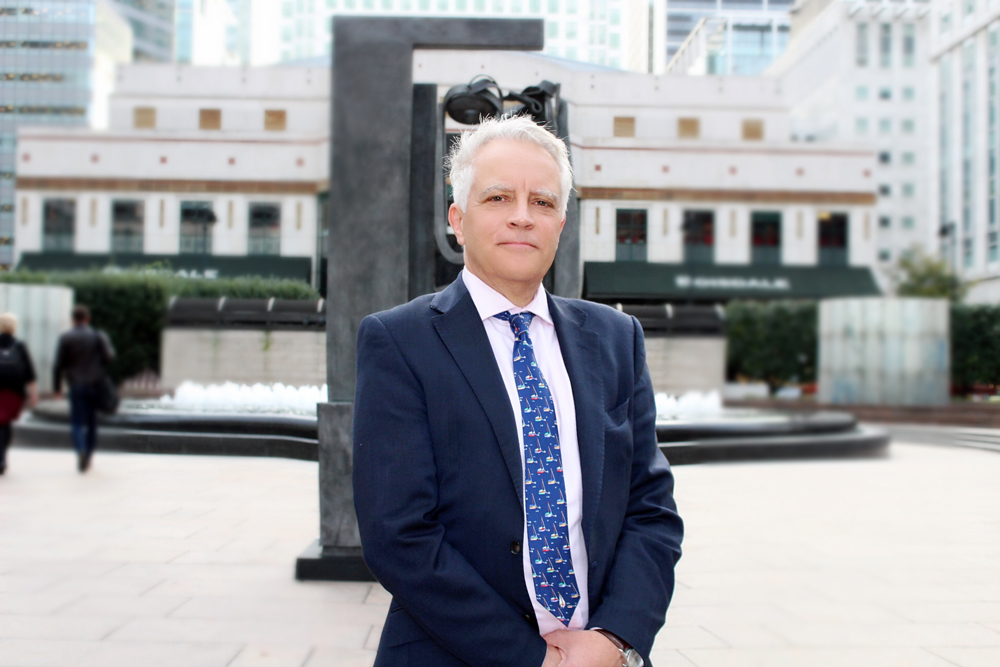 The Purple chats with Andrew Dyson about life inside and outside work at the helm of the International Securities Lending Association.
Tell us about your current role. What does a typical day look like?
I joined ISLA in 2013 and took over as chief executive in mid- 2016. During this time, much of what we do as an association, as well as individuals, has changed out of all recognition. Trying to describe a typical day is quite difficult as each one can be very different. As we are still a very small organization, flexibility and adaptability are key. A typical day might involve detailed discussions with key regulators and policymakers across Europe as we develop our advocacy efforts around the importance of securities lending to the broader capital markets ecosystem.
More recently, I took that message to Jordan as part of our strategic objective to help with the implementation of a fully functional securities lending infrastructure in less developed or emerging markets. In addition to leading our advocacy efforts, my day also includes working actively with the rest of the team in London around their own specific responsibilities. This may include joining meetings to discuss specific responses to regulatory consultations, thinking more broadly about the future of digitalization and CDMs, as well as our outreach capabilities through the website, the press, social media or our various conferences and regional events. You can see from this, my days are often varied and rarely the same.
What is the biggest challenge you face in your position?
This is a very interesting question. I would answer that in a number of ways. First and perhaps inevitably, we simply don't have the limitless resources we would like in order to deliver on all of the things members would like from us. Consequently, prioritization and trying to do what is best for the membership and the broader industry is always a challenge. Secondly, as we do more and deliver increasingly relevant outputs, the demands become greater. We effectively become victims of our own success. Having said that, neither are bad problems to have as they indicate that members value what we do for them.
What initiatives are you spearheading at ISLA?
I have now organized our business around four core pillars, with individual senior members of the team managing Regulatory/Technical, Legal Services and Communications/ Events, respectively. I oversee Advocacy.
Therefore, much of the day-to-day control of these areas resides with each of them. This allows me time to think more broadly about our advocacy efforts. In this regard, I am thinking about how we need to position ISLA ahead of the new European Parliament and Commission later this year, and what key messages we want to convey to new MEPs and officials at the Commission. In addition, I am also working with a small group of member firms to look specifically at what, as an industry, we can do to help with the development of a securities lending market across the Middle East.
Also, and perhaps inevitably, I am also thinking about how ISLA may have to respond to a post-Brexit landscape and what that may mean for our member firms, and how we best support them in the future.
What is your proudest moment on the job?
We have done so many positive things during my tenure at ISLA, so picking a particular moment or event is difficult. Recently, the establishment of our core senior management team is something I have wanted to do for some time, and in my view, creates a viable and robust management structure that is a firm foundation for the future. Also, I am always proud on the first day of our annual conference. To see most of the industry gather around ISLA each year does generate a feeling of pride and acknowledgement that we must be doing something right to maintain this level of attendance and support.
What do you do in your spare time?
When not thinking about securities lending, I am a keen supporter of Brighton & Hove Albion, a lesser-known Premier League soccer team. I drive an old 1965 MG sports car, and run around after our dog, which demands many walks. Luckily, I live near the coast, which makes the dog walking less onerous! Unlike many here in the U.K., I am in fact a pro-European, and spend as much spare time as I can in Portugal, where we own a small property in the south of the country.
What is the best advice you have ever received?
​Apart from the routine advice to watch and learn from both your elders and more experienced colleagues, etc., the most telling and compelling piece of advice I have had was to think carefully about how the recipient of a message you are about to deliver will react to that piece of information. Too few many people understand the potential impact of what they are about to say, and we all need to think more before we speak.